This is as described our signature event at the Bugatti Race track in Le Mans, France.
Normally the race in one of the last weekends in June.
The trip or race is like this:
Thursday:
Departure from Taastrup with bus.
Friday:
Arrival to Le Mans
Setup up of the campingsite, meaning tents, kitchen etc. – remember to help each other.
Saturday:
preparing to the race, preparing the pit, etc.
Racestart
The teams are prepared from home.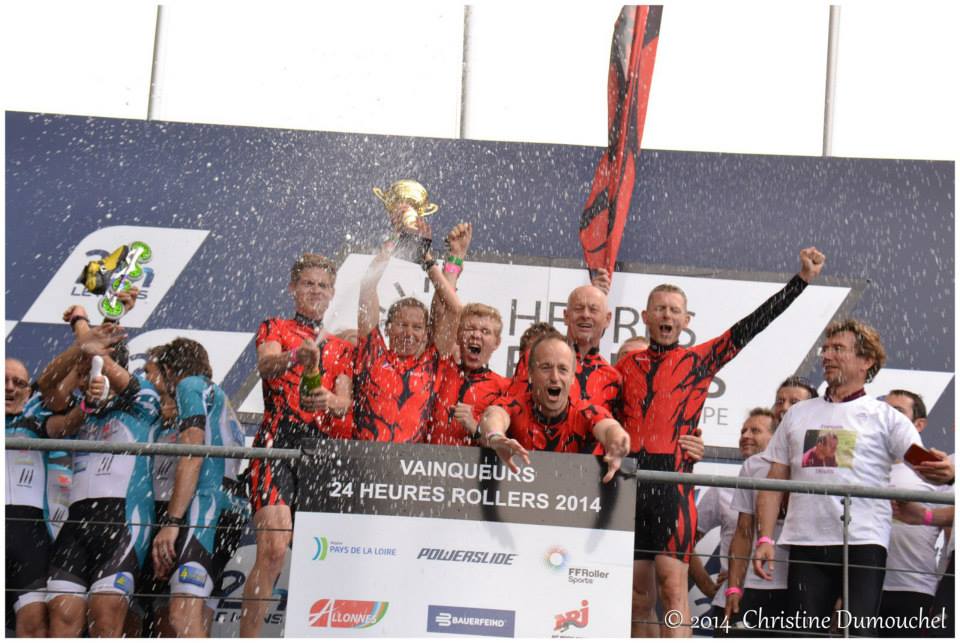 A team is a 10 man/woman group, racing 1 person at a time, also meaning a relay for 24 hours – the group will be made so it consist of 10 skaters of about the same level!
This means that the skater races 1 trip around the nicely 4,2km Bugatti track, starting with a nice uphill finishing below the iconic Dunlop bridge, and then a good downhill some turns and suddenly you have done 4,2km. then you switch to the next skater, and that is how you manage to use 24 hours perfectly 🙂
Rolling Vikings managed to get a podium place in 2012 in the Veteran group.
In 2014 Rolling Vikings Won the Veteran Group 🙂
When the race is over we pack the bus, go about an hour or 2 and find a nice restaurant so we can get something to eat.
Monday afternoon we will arrive in Taastrup again.
What does it take?
Sure some training and not least participation in Rolling Vikings trainings, mostly to get used to the group and not least be prepared for what it takes at Le Mans, and sure a Rolling Vikings shirt or skinsuit.
If you would like to participate with Rolling Vikings at Le Mans then please write an email to Tore: Tore(a)brynaa.com